Allow me to introduce
myself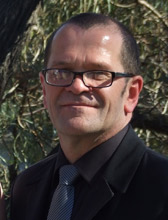 My name is William Betson and I am a Civil Celebrant. Choosing me to assist in preparing and performing your ceremony will give you the choice of many sensational locations.
I have a fresh, young and open minded approach to your wishes for your ceremony. I can offer you as much professional advice, guidance and assistance as you need in the planning of your ceremony.
There is absolutely no cost to discuss your requirements with me, either by phone or in person. Please don't hesitate to make contact with any questions you may have, or to arrange for an obligation free initial consultation. For a marriage ceremony, you will be supplied with a complimentary copy of "Your Wedding" and other resources, which will present you with a wide choice of ceremony ideas.
Finding the right celebrant is an important part of planning. Meet a few celebrants if you wish and select the one who suits you personally and gives you the best advice. As celebrants take bookings well in advance, especially for the most popular times (usually weekends), it is wise to book the celebrant of your choice as early as possible.
I look forward to hearing about your hopes, dreams and wishes for your special day, working with you and turning it into the ceremony that you have always dreamt of.
"For all life's Celebrations ..."
Nicole & Tim
"Thank you so much for being our Celebrant on our Wedding day. You did an incredible job. Everything turned out perfect. Your advice and guidance made everything so much easier.

We had many comments from our guests about our wonderful ceremony. It was exactly as we wanted and all because of you.

Thank you again for being part of the most wonderful day of our lives and one we will always remember."
Annie & Ian
"Will kindly presided over our wedding celebrations last March (2011).

We had only a few (but specific) requirements for our ceremony and Will handled each of these needs with a sense of style and charm to help create a day that filled us with great happiness.

Many thanks to Will for his support in keeping everything on track, stress free and a wonderful start to our married life."
Tim & Marie
"Hi Will. We would like to thank you for such a wonderful wedding ceremony. Everyone we spoke to who attended commented on how beautiful it was and how different as well. We were just thrilled with how it all went it was perfect. You have made our wedding day unforgettable you will be a big part of our memories always and in ten years time i will be sending you thýs msge again. Thanks again"
Debbie & Alan
"Thank you so much for performing the celebrant duties at our wedding.

Your friendly and guiding approach ensured that the day was perfect, and that we enjoyed both a relaxed and intimate ceremony which reflected our wishes. Your suggestions were practicable and assisted us to ensure that the personalities of our bridal party were accommodated, but also allowed us to tailor to our needs for the day. We and our families also appreciated your suggestion of including an acknowledgement to parents who were deceased.

We would have no hesitation in recommending you to anyone who is looking for a friendly, caring celebrant who is happy to adapt a ceremony to their needs. Your professionalism and enjoyment of your work clearly shone through on the day, and contributed to our life-long memory of this joyous occasion."
William Betson
tel: 0438 747 508

website: www.betson.biz