Marriage
Ceremonies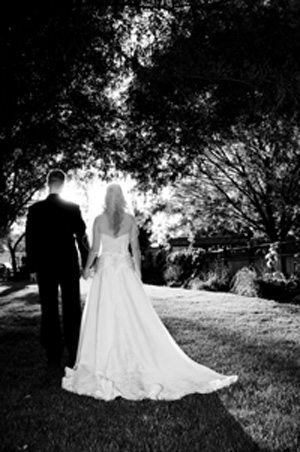 One of the many reasons a couple choose a Celebrant is that they are able to have input into what is said in the ceremony and the order in which this takes place.
How long does a ceremony take? This is entirely up to the couple - some prefer a shorter ceremony of about 10 to 15 minutes whereas others may prefer one that takes a little longer which perhaps includes 2 readings - taking about 20 to 30 minutes.
Here is a standard 'Order of Ceremony'. You can have as many readings as you wish however, 1 or 2 is the norm.
1. PROCESSIONAL (Bridal March)
The Bridesmaids enter first, followed by the Bride with the person who is giving her away. (It is only optional whether you choose to have a bridal party, it is legal just to have two witnesses over the age of 18 years.)
2. WELCOME
The Celebrant welcomes family and friends, and introduces her/himself.
3. GIVING AWAY
'Giving Away' of the Bride to the Groom is totally optional. Often, more than one 'Giving Away' is done. There are plenty of options.
Giving Away of the Bride by her father/ brother/mother/sister/other family member/friend
Giving Away of the Bride and Groom by their respective parents
Giving Away of the Bride by her parents
Giving Yourselves to Each Other
4. INTRODUCTION
The Celebrant speaks about the couple's ideals and/or philosophies of marriage. What marriage means to the couple and perhaps aspirations for their future together. A professional Celebrant should be able to give you plenty of ideas of ceremonies they have done in the past.
5. READING
Most professional Celebrants will have books of verses, from which to choose an appropriate reading. It is usual to have a close friend or family member read this.
6. MONITUM
From the Marriage Act and said by the Celebrant.
7. DECLARATION OF INTENTION TO MARRY
This is often called the 'Declaration of Marriage' which is a public declaration.
8. VOWS
A professional Celebrant will be able to give you selections to choose from and/or assist you to write your own very special vows. Most will have an appropriate 'library' of books to lend you.
9. RING CEREMONY
Most couples give rings to each other however, sometimes just the Bride chooses to have a ring. Some couples may choose to give a gift, rather than a ring.
10. CONCLUSION
A short conclusion is said by the Celebrant.
11. THE DECLARATION OF MARRIAGE
The Celebrant pronounces the couple 'Husband and Wife'.
12. SIGNING OF THE MARRIAGE REGISTER
The couple and their two witnesses sign the Marriage Register, Certificate of Marriage and Marriage Certificate. The photographer will take a few photos of the 'signing'.
13. CONGRATULATIONS & PRESENTATION TO FAMILY AND FRIENDS
The Celebrant congratulates the couple and introduces them to their family and friends. Many just choose to have their first names read while others prefer to be introduced as Mr & Mrs...
14. RECESSIONAL
The couple leave the ceremony area, followed by their bridal party, generally to music. This concludes the Celebrant's part of the ceremony.
---
William Betson
tel: 0438 747 508

website: www.betson.biz